GeoBlue Navigator for Students and Faculty...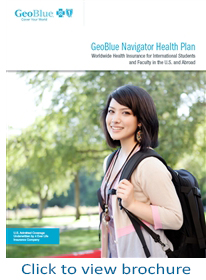 The Navigator delivers Worldwide health insurance and services for Students and Faculty - The GeoBlue Navigator health plan meets the needs of International Students and Faculty by offering comprehensive worldwide benefits - inside and outside the U.S. - without the typical limits, eligibility conditions and benefits exclusions common among traditional plans. The opportunity to study or teach abroad is for many the opportunity of a lifetime. Being properly prepared for unexpected events while abroad is the only prudent approach to International travel.
As global lifestyles emerge, the demand for comprehensive international health insurance has grown rapidly. In response to this demand, a new generation of superior health plans is now available to serve expatriates and their families. This is a positive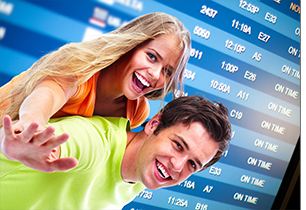 development for American expatriates who have historically had limited choice when it comes to coverage. Existing insurance options have often missed the mark because of limited benefits, long waiting periods, harsh exclusions, per-certification penalties, lack of portability and other hidden gotchas.
GeoBlue Navigator is the premier health plan for students and faculty because it combines these benefits with concierge-level medical assistance and easy access to an elite community of carefully selected hospitals outside the U.S. and a network of over 700,000 doctors and hospitals inside the U.S. through the Blue Cross and Blue Shield Network. GeoBlue Navigator gives international students and faculty peace of mind, knowing they always have the freedom to access top medical care and benefits no matter where their ministries take them.
Tailored plans for your group
GeoBlue plans provide a full range of medical benefits necessary to meet the expectations and situations for both outbound and inbound students studying outside their home country. In addition to the standard J-1 compliant offerings, a variety of optional benefits including mental health, sports injury and maternity coverage are also available.
Access to the largest network in the United States
GeoBlue members have access to the Blue Cross Blue Shield network - the largest in the U.S. The 92% of doctors and 96% of hospitals participating allow for maximum convenience and flexibility for those in need of healthcare services. This network will bill GeoBlue directly so members don't have to worry about out-of-pocket expenses during care - whether it's inpatient or outpatient.
Exceptional Member Services
GeoBlue has a clear knowledge of U.S. healthcare and a deep understanding of the confusion by those who are unfamiliar with it. GeoBlue's U.S. based customer service and medical assistance teams are readily available to help international members understand and navigate the U.S. healthcare system. GeoBlue representatives cover many foreign languages, allowing them to discuss coverage and personal topics with their international members in their native tongue.
Deductible Options Available
Previously the Navigator plans had four deductible choices - $250, $1,000, $2,500, & $5,000. Two NEW deductible options are available with the Navigator for Students. There is now a $0 (zero) dollar deductible and a $500 deductible option. Please note that the $0, $250 and $500 deductible options are compliant with the new student J-1 Visa program requirements that will take effect on May 15, 2015.
GeoBlue Navigator Options

Plan

Deductibles

Coinsurance
Maximum

Outside
U.S.

U.S.
In-Network

U.S.
Out-of-Network

0


$0

$0

$0

$1,000

250

$125

$250

$500

$2,000

500


$500

$500

$500

$3,000

1000

$500

$1,000

$2,000

$4,000

2500

$1,250

$2,500

$5,000

$8,0000

5000

$2,500

$5,000

$10,000

$10,000
VERY IMPORTANT –
How companies determine coverage for "Pre-Existing Conditions" can dramatically change the outcome of your claims being paid.
Below is a common example of how, many companies view, treat and cover pre-existing conditions:
Pre-Existing Condition - It is any medical condition, sickness, injury, illness, disease, mental illness, or mental nervous disorder, regardless of the cause, including any congenital, chronic, subsequent, or recurring complications or consequences related thereto or resulting therefrom that with reasonable medical certainty existed at the time of application or any time during the 12 months prior to the coverage start date of this policy, whether or not previously manifested, symptomatic, known, diagnosed, treated or disclosed.
This specifically includes but is not limited to any medical condition, sickness, injury, illness, disease, mental illness, or mental nervous disorder, for which medical advice diagnosis, care or treatment was recommended or received or for which a reasonably prudent person would have sought treatment during the 12 months immediately preceding the coverage start date of the policy.
The above verbiage is very unsettling. This is an example of a company who can dispute or deny just about any claim that is submitted.
GeoBlue's International Student pre-existing clause is much more lenient and provides a common sense approach to pre-existing conditions.
GeoBlue Pre-existing Clause: The GeoBlue Navigator Student plan does not cover services for treatment of a medical condition for which medical

advice, diagnosis, care, or treatment was recommended or received

during 365 days immediately preceding the member's eligibility date. "Creditable Coverage" The 365-day pre-existing conditions period can be reduced or eliminated if you have been covered by a creditable group or individual health insurance plan.

If you have 12 or more months of creditable coverage, your waiting period will be eliminated.
What About Coverage for Assignments short than 3 months?
GeoBlue offers the Voyager Choice plan for students and faculty traveling outside the U.S. for short-term research, study and international experience. For study assignments inbound to the U.S., the minimum length of stay is 3 months under the GeoBlue Navigator policy.
Click Here for more information about GeoBlue Voyager Choice plan
Access to an Elite International Provider Community
GeoBlue has a network of doctors from almost every specialty in over 180 countries to see you. Only a small fraction of doctors around the world meet GeoBlue standards - participation is by invitation only. GeoBlue seeks out professionals certified by the American or Royal Board of Medical specialties who speak English, and they factor in recommendations by over 148 Physician Advisors from all over the world. GeoBlue then assembles in-depth profiles so members can choose with confidence and GeoBlue puts formal contracts in place to ensure patient access. GeoBlue doctors bill them directly so you don't have to file a claim. If you receive treatment within the United States you have cashless access to the Blue Cross and Blue Shield network in all fifty states.
Personal Safety Intelligence
GeoBlue maintains unsurpassed resources designed to promote personal safety by giving members convenient access to vitally important news, health and safety analysis and medical translation tools.
Global Health and Safety news alerts published daily and delivered by email or smart-phone
City-level profiles for 228 cities and 130 countries
Brand-name equivalents for 400 common over-the-counter and prescription drugs in 35 of the most frequently visited countries
Translation of hundreds of medical terms and phrases into the 10 most widely spoken languages
GeoBlue maintains a 24/7, toll-free call center to assist members
Emergency Medical Evacuation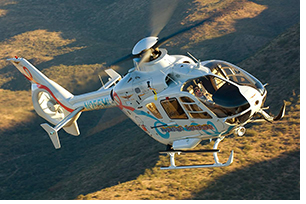 World travelers need to properly protect themselves against financial exposure due to catastrophic medical events. If comprehensive travel medical benefits and assistance services are not secured before you travel, you could find yourself exposed to huge losses - both physical and financial. Though illness can strike at any time, when severe incidents occur overseas, lack of proper coverage can leave you the traveler with steep medical bills for less than sufficient care.
As a global traveler you need to be prepared for the possibility that you could find yourself in a location where the Medical Care is poor or inaccessible. In the event you find yourself in a situation where you need to be evacuated to an area where you can receive the appropriate level of care then you need to make sure your International coverage includes a comprehensive Emergency Medical Evacuation benefit. Medical evacuations are not a simple procedures and they can be extremely complicated and expensive. This must be available to you 24/7 no matter where in the world your travels take you. In addition you need a partner who is capable of organizing and caring out the evacuation no matter where you find yourself.
Considerations for any medical evacuation are:
Evaluating the appropriateness of local health care providers
Identifying the closest facility where a high level of care is available
Determining the risk vs rewards of moving the patient
Choosing the best method of transport (ie: ambulance, helicopter, fixed wing air ambulance)
Securing the cooperation of the local treating physician, including a determination that the patient is stable enough to move
Enlisting the most appropriate team to handle the transport (ie: doctor, nurses, therapist)
Arranging for speedy and appropriate intake at the receiving facility
Having someone on your side helping guide you through the whole process - that is GeoBlue...
Make sure when you travel, you travel with a full service, travel health plan that provides a higher level of protection and peace of mind than standard evacuation memberships offer. If you are not sure about your current plan or one you are considering make sure you get a copy of your certificate of coverage and read it. Make sure you have a complete picture of what you are buying. Then cover yourself with the Power of Blue. GeoBlue offers this type of comprehensive coverage and it is built into their Navigator Series of Medical plans.
Need a Doctor? There's an App for That
The GeoBlue mobile app puts their concierge-level service right in your hand. Manage your health wherever you are by searching for healthcare providers, requesting appointments, setting up direct billing and providing proof of coverage. Use the translation tool to help you schedule your doctor visit or ensure you're getting the right dose of the right medication. With the app, you can also view security profiles and read travel alerts to make your journey safer.
Find trusted medical care
File a paperless claim*
Show/email/fax their ID card to a provider
When you are traveling or living abroad there is no better friend then your GeoBlue Mobile Phone App. As a member it is FREE to you and everything you can do Online with your GeoBlue Member Account you can do on your phone. Simply search your Apps Programs and search for "GEOBLUE" and download it to your phone.
The J1 Visa
One of the requirements for foreign students planning to study in the U.S. is that they must maintain a health insurance policy that will cover them within the U.S. and there are minimal limits that are required. In addition there are requirements as to the financial stability of the insurance company that issues the policy. Below is the requirement and this comes straight from the U.S. State Departments Website… GeoBlue Navigator meets and exceeds both the U.S. State Department requirements and just about any other higher limits required by the school you may be attending.
"Program participants and their dependents are required to have medical insurance coverage with the following minimum benefits [22 CFR 62.14].
Medical benefits of at least $50,000 per accident or illness
Repatriation of remains in the amount of $7,500
Expenses associated with the medical evacuation of the exchange visitor to his or her home country in the amount of $10,000
A deductible not to exceed $500 per accident or illness.
Sponsors are to require that their participants (and any dependents entering the United States as holders of a J-2 visa) have insurance in effect during the period of time they are in the sponsor's program. An insurance policy secured to meet the benefits requirements must be underwritten by an insurance corporation with an A.M. Best rating of "A-" or above, an Insurance Solvency International, Ltd. (ISI) rating of "A-I" or above, a Standard and Poor's Claims Paying Ability rating of "A-" or above, or a Weiss Research, Inc. rating of B+ or above. Alternatively, the sponsor may ascertain that the participant's policy is backed by the full faith and credit of the government of the exchange visitor's home country. For other options, see [22 CFR 62.14].
Program regulations also discuss coverage through HMOs and self-insurance of the above requirements by federal, state or local government agencies, state colleges and universities, and public community colleges, if permitted by law. Refer to [22 CFR 62.14] for additional information."
The F-1 Visa
Full-Time Academic Study or Teach in the United States with F-1 Visa
Each year there are more the 1 million F, M and J non-immigrants to the United States for education and cultural exchange. The F-1 Visa is a type of non-immigrant student visa that allows foreigners who want to pursue a full program of study here in the United States.
All F-1 students must maintain a full load course of study while attending the school. In order to receive an F-1 Visa you must first apply at your school of choice and receive a form I-20 in order to complete the F-1 Visa application process. In addition you must be able to support yourself while attending school here in the United States. The F category of visa is for academic student and not vocational students. If you are seeking to participate in an exchange program you may be eligible for the J-1 Visa category for exchange visitors. Click here for more on J-1 Visa.
F-1 Visas are only issued at a U.S. Embassy or Consulate outside of the U.S. In order to acquire a F-1 visa you will need to make an appointment with a visa official at the nearest U.S. Embassy or Consulate. You are required to pay the U.S. government SEVIS fee to make this appointment. Be sure to bring your application materials, admission offer from the school selected, passport and immigration documents issued by the university to your appointment. It is in your best interest to receive this visa as soon as possible after your admission. For more information about the F-1 Visa program and other visa categories please refer to the links provided below.
Following List Needs an F Visa to Attend
University or College
High School
Private Elementary School
Seminary
Conservatory
Another academic institution, including a language training program
Why Choose the GeoBlue Navigator Plan?
A Recognized Leader in International Health Insurance and medical assistance services
Highest Standards of Service, GeoBlue meets the highest expectations of quality
Strength of a U.S. Regulated Insurer that protects your rights by meeting U.S. standards
Group Quotes Available - Educational organizations can cover groups with 25 or more enrollees
GeoBlue Navigator Plan Highlights
Unlimited annual and lifetime medical maximum
Physician office visits including preventive care
Hospitalization, surgery and diagnostic care
Coinsurance: 20% in-network/40% out-of-network (waived outside the U.S.)
Prescription drug coverage included
Physical therapy, mental health and substance abuse
Medical Evacuation, Repatriation of Remains and AD&D
Top 10 Advantage over Competing Plans
U.S. licensed and admitted coverage
Cashless access to the best provider networks inside and outside the U.S.
Choice of deductible options (waived for office visits)
$30 office visit copay (reduced to $10 outside the U.S.
Coinsurance waived for care outside the U.S.
Pre-existing conditions exclusion waived with prior credible coverage
No waiting period associated with preventive services
No exclusion for specified conditions in the first 6 months
No per-certification penalty imposed
Sports and alcohol related injuries covered
The strength of Blue. GeoBlue Navigator is offered in cooperation with certain local Blue Cross and Blue Shield companies
How The Plan Works
GeoBlue Navigator offers comprehensive benefits and a range of deductible options that allow members to select the right amount if insurance coverage for their budget and lifestyle. For families, the deductible and coinsurance maximum is a multiple of 2.5. After 364 days of continuous coverage, Navigator members may re-enroll in a plan that matches their existing befits. GeoBlue Navigator offers four deductible plan choices, $250, $1,000, $2,500 and $5,000.
GeoBlue Navigator has three tiers of coinsurance; 100% outside the United States, 80% in-network in the United States, 60% out-of-network inside the United States. All GeoBlue Navigator plans have an unlimited lifetime maximum and a $250,000 maximum benefit for emergency medical evacuation. The Out-of-Pocket Maximum is calculated by adding the deductible and coinsurance maximum together.
How To Apply

Applications are available Online via the quote link above or you can download the application here. A personal check, money order or credit care number must accompany the application and must be sufficient to pay for one month of standard premium. GeoBlue will hold the form of payment until an underwriting decision is made. If your application is accepted, the payment will be applied to your account. Quotes obtained Online or by telephone are advisory only. Actual premium is determined by the medical underwriting department.
GeoBlue will review your medical history as provided on the application and may request Attending Physician's Statement. GeoBlue publishes standard premium rates for non-smokers. Smokers and other applicants with certain medical histories may be offered a policy at a higher rate. Not all applicants will be accepted. Your effective date of insurance will be on the 1st or 15th day of the month following underwriting approval.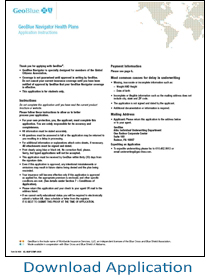 Two Options to Apply
Download Paper Application, complete and return to us via email or regular U.S. Mail.

Email Completed Applications to "sales@individualhealth.com
Mailing Address: Application Processing, P O BOX 6374, Jackson, WY 83002-6374
Who is eligible to buy a GeoBlue Navigator Plan?
GeoBlue Navigator is designed for extended living abroad. You can choose to enroll in a new plan when your existing plan expires. When you do, there are no medical questions and premium rates do not change based on your individual claims history. Your new rate will be the same as all persons in your rating class. U.S. Citizens and U.S. permanent resident living abroad who are 75 or younger at the time of application are eligible to apply for coverage. Legal residents of the U.S. (citizens and residents) are eligible if they apply from an approved state. The Eligible Member must be scheduled to reside outside his/her country for at least 3 months per year AND be involved in Educational activity. This includes:
International Students living in an approved state
International Faculty and Research Scholars in an approved state
Optional Practical Training (OPT) Participants living in an approved state
U.S. Students and Faculty, planning on studying outside the U.S., applying from either an approved state or from outside the U.S.
If you live in the U.S. and you are not in an approved state we may have other options for you
Underwriting times can be fairly fast - first response to applications can be within 24 hours
Why Choose GeoBlue?
Go with a name and brand you can trust. GeoBlue is the trade name for the international health insurance programs of Worldwide Insurance Services, an independent licensee of the Blue Cross Blue Shield Association. GeoBlue health plans are offered in cooperation with certain local Blue Cross and Blue Shield companies, with a network that includes more than 90 percent of physicians and 80 percent of hospitals across the U.S. GeoBlue's comprehensive portfolio of international health insurance plans demonstrates the commitment to covering members both at home and abroad.
Strength of a U.S. Insurer - Underwritten by 4 Ever Life Insurance Company, rated A- (Excellent) by A.M. Best. 4 Ever Life is an independent licensee of the Blue Cross Blue Shield Association.
Better Coverage - Their plans are U.S. licensed and feature coverage more generous that plans sold as "surplus coverage".
Their plans do not restrict illnesses or injuries resulting from a terrorist act
They do not impose recertification penalties for hospitalization.
They provide coverage for pre-existing conditions for medical evacuation. Pre-existing conditions are also covered in all instances by GeoBlue's Choice plan.