Become a GeoBlue Agent...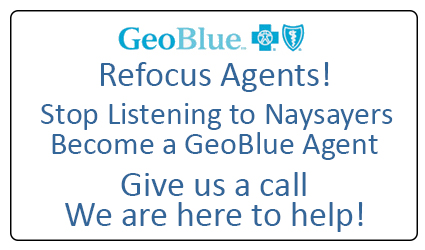 If you are a licensed health insurance agent and if you have been around for the past five years then not a lot needs to be said about how difficult this period of time has been for all agents in the field. The Affordable Care Act most will agree is hear to stay or at least until something replaces it. As it looks right now we are stuck with the ACA for at least a few more years. As health insurance agents we have enjoyed many years of prosperity and we certainly have had the opportunity to grow along with our clients needs.
Since the passage of the ACA it has been a spiral of misinformation, reduction in consumer choice, increase in costs and shrinking network selection. Not to mention the impact on your ability to make a living and feed your family. In many states now there exists no insurers to service the people living there. And in just about all regions of the country commissions are gone or so small they make it all but impossible to feed ones family.
Many agents have simply left the business or changed to other product lines. The migration to industry standards such as the Senior Markets has been met with a staggering increase in competition. More agents and certainly more insurance companies now compete for the very same business and commissions in parts of these markets have been reduced substantially. The expected increase in the senior markets to be brought upon by the aging Baby Boomer population was supposed to be an easy transition for the agent. But as more and more seniors continue to work beyond age 65 and more competition continues to saturate this market place has been a bit disappointing to many.
Get Excited About Your Career Once Again
Just when you thought your career may have come to an end as you know it - maybe you need to stop and rethink your business plan. It is time to refocus on new opportunities that exist and in fact some offer unlimited potential for you to grow your business. International Health Insurance is one of those areas offering unlimited potential for growth and increased income potential. We live in a Global Society now and the need for quality International Products is at an all time high and growing globally. Consider moving part of your business model to selling to your clients and meeting their International needs. Receive commission again that are consistent with those of years past.
Global Opportunity
Millions are pursuing lifestyles that transcend international boundaries, creating a growing market of Globalists who go abroad for extended periods of business, leisure and study. In addition you as an agent have no bounderies. The numbers of people traveling, moving, working abroad or foreign nationals working for U.S. based companies continues to grow and with it so do the opportunities for the agent.
30 million people live and work outside their country of citizenship
Over 2 million U.S. retirees reside abroad, a trend analysts call a "massive new migration"
Nearly 2 million scholars study abroad each year; millions more business and government workers train outside their home country as wel
GeoBlue Products
Most every agent and client recognizes the Blue Cross Blue Shield branding. GeoBlue is the trade name for the international health insurance programs of Worldwide Insurance Services, an independent licensee of the Blue Cross Blue Shield Association. Setting the industry standard, GeoBlue combines the latest mobile technology and worldwide healthcare expertise to deliver global medical assistance and health benefits that put the health, safety and convenience of world travelers first. GeoBlue's innovative approach opens the door to an elite community of thousands of carefully selected, contracted doctors and hospitals in almost every country in the world. The scope of GeoBlue's services and technology create a complete, reliable, convenient way to keep international travelers and expats healthy and productive.
Marketing Materials & Sales Tools
All of the GeoBlue products are available to you in print and downloadable PDF file formats. When you contract with GeoBlue you also receive state of the art Online tools and your own link to all of the GeoBlue products to sell Online. You can generate quotes and email them to your clients or simply provide links the GeoBlue product line all branded with your agent information.
Simplify Your Life
After 32 years in this business there is one thing I am certain of... To truly simplify your life you need to focus on what you do best and release all other baggage that we as agents accumulate over a career. GeoBlue offers the health insurance agent a chance at re-birth so to speak. The International markets are growing, comissions are fair with options to increase compensation levels with production and the Affordable Care Act does not reach outside our borders. Medicare does not cover out-bound Seniors on Medicare so for those who might already service the Senior marktes GeoBlue is a value add to your service. Get started with GeoBlue and remember when the need arises we are here to help.
When you sign up with GeoBlue, you immediately receive unique web links that track Online sales via your agent account. These links can be added to your website or emailed to customers. These links will point into our individual product web site located at www.hthtravelinsurance.com (gateway to all HTH Worldwide and GeoBlue plans) or www.geobluetravelinsurance.com (gateway to GeoBlue plans only).
You will also receive a unique 6 digit Agent ID number. This number should be included on all brochures mailed from your office. This unique number allows us to accurately track all paper enrollments received via your account.
Finally I am here to help. I have sold domestic and International plans since 1986. I can assist you with your international sales or you can create your own career path. In addition you do not need to maintain licenses in multiple states. This alone is a huge saving to the individual broker. It you have questions call me (307) 690-0427 or send your questions to "sales@individualhealth.com". Get paid fairly for your expertise, your time and hard work once again.
To get started click the Agent Sign Up link below: